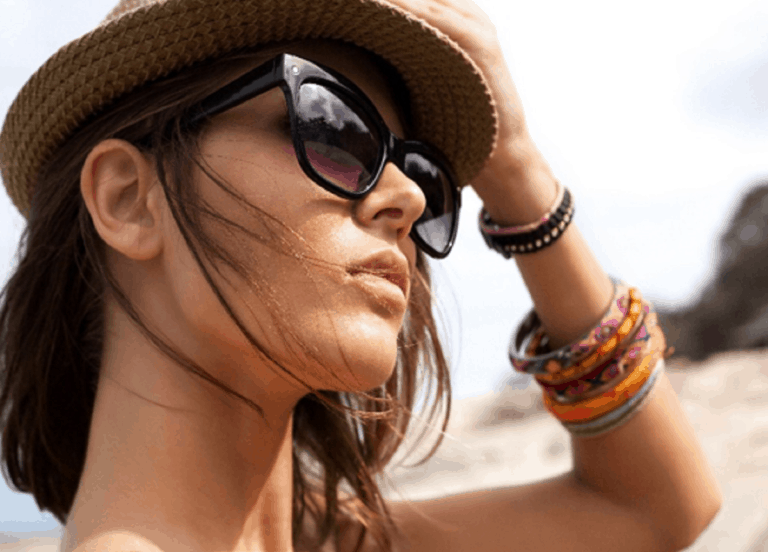 Most of us already know how important it is to protect our skin from the power of the sun. The effects of damage from ultraviolet solar rays are obvious: dry, wrinkled skin, sun spots, and in too many cases, skin cancer.

Experienced Amman, Jordan plastic surgeon Mohammed Alghoul, M.D. reminds you that your eyes are much more sensitive than your skin, and need a level of protection at least as strong as the sunscreen you use daily.

Given these facts, it's clear that sunglasses should be an indispensable daytime fashion accessory for everyone. And it's also clear that when it comes to the health of your eyes and the sharpness of your vision, frugality is not a virtue.

Those cheap sunglasses you see on the rack at the store or for sale on the street are no bargain at all. In fact, in the long run they can be quite costly. Most of these inexpensive varieties block only part of the sun's harmful UV rays. Meanwhile, they trick you — and your eyes — into thinking that you are wearing adequate protection. The darker lenses of the sunglasses reduce visible light, and in response your pupils dilate. In doing so, they are allowing a higher intensity of ultraviolet light to enter and begin damaging the retina.
The High Cost of Cheap Sunglasses
The consequences of subjecting your eyes to years of unprotected exposure to ultraviolet rays can be severe — for your eyes and for the delicate skin surrounding your eyes. In fact, up to 10 percent of all skin cancers occur on the fragile skin near your eyes. The eyelids are a common location for this type of malignancy.
For the eye itself, long-term exposure to the sun can cause cataracts; macular degeneration, which often leads to total loss of vision; pterygium, a type of growth on the eye; and photokeratitis, which is essentially a sunburned eye. For optimal protection from all these risks, look for sunglasses that block 99 to 100 percent of both UVB and UVA ultraviolet rays. If the label includes a UV 400 notation, that is a sign that the product offers complete blockage of ultraviolet light.
Because much of the ultraviolet light reaching your eye is reflected off the inner surface of the lenses or penetrates through the side, wraparound or large, snug-fitting sunglasses are ideal. Wraparound sunglasses have the added benefit of protecting the delicate skin near your eyes. Some types of sunglasses feature anti-reflective coatings for the inner lenses. Polarized lenses are also a prudent investment, as these lenses almost always provide exemplary protection from damaging ultraviolet rays.
To learn more about protecting the health of your eyes and surrounding skin, schedule a personal consultation with experienced Amman, Jordan plastic surgeon Dr. Mohammed Alghoul at his office, conveniently located in the Abdali Medical Center, by calling or emailing Northwestern Plastic Surgery today.