An incision around the areola is almost always needed and may be combined with a vertical scar under the areola and a horizontal scar that is hidden in the fold. Breast lift can be combined with an implant if larger size or upper breast fullness are desired.
Breast Lift Candidates
Potential candidates for breast lift surgery include those that have breasts that sag or droop, breast volume loss from breast feeding or pregnancy, or breasts with a flattened shape. At the time of your consultation, Dr. Alghoul will help determine if a breast lift is right for your cosmetic goals.
Breast Lift Consultation
During consultation, a thorough breast evaluation is performed to determine the shape, volume and measurements of your breasts. The surgical procedure and proposed scars needed to accomplish the desired shape will be discussed in details. Dr. Alghoul will also discuss whether breast augmentation should be combined with breast lift.
View our before and after breast lift gallery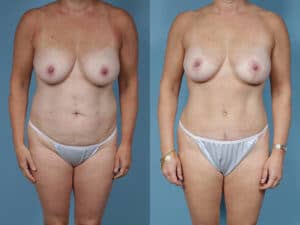 What to Expect After Breast Lift Surgery
Breast lift (mastopexy) is performed as an outpatient procedure under local or general anesthesia. You may engage in light activity on the day following surgery. Return to normal activity, including work, usually takes a week. It is normal to have swelling in your breast after surgery, which resolves gradually over a few weeks. You will notice an immediate improvement in the shape of your breast, which will continue to refine as the swelling subsides. Results are long lasting; however, your breasts may sag again if you become pregnant or significantly fluctuate in weight.
Contact Dr. Alghoul
If you'd like to schedule a consultation with Dr. Alghoul in our Amman office to discuss breast lift, please call or contact us via email.