During pregnancy, the two six-pack muscles stretch and separate, creating weakness and bulging in the midline. This separation is also known as "diastasis." Abdominoplasty restores the abdominal tone and shape and flattens the bulge in the midline.
There are different types of abdominoplasty. They all involve an incision placed in the lower waist or bikini line. Traditional abdominoplasty corrects the areas both below and above the belly button and tightens the muscles in the midline. Circumferential abdominoplasty removes skin from the lower abdomen, flanks and lower back in a belt-like fashion. Liposuction of the abdomen and flanks is almost always performed at the same time to sculpt contour of the abdomen and waist.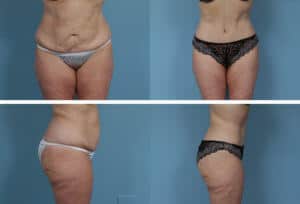 During your tummy tuck consultation, Dr. Alghoul will address all of your potential cosmetic concerns, including the amount of fat, loose skin, stretch marks, and degree of diastasis. A procedure will be recommended based on your body analysis. It is very important to point out any previous abdominal surgeries and any scars on your abdomen during consultation.
What to Expect
Tummy tuck, or abdominoplasty, is usually performed as a short-stay inpatient procedure under general anesthesia. The procedure typically comes with a 2-night hospital stay at Abdali Hospital.
Early ambulation is encouraged the following day of surgery and our team will assist you. An average of one surgical drain is placed in the abdomen and is removed one week after surgery. Return to more normal activity may take up to two weeks. Return to work my take one to two weeks depending on the extent of surgery. You may feel tight and unable to walk straight for a few days. Your body will stretch back to a straight posture gradually over the following two weeks.
The results are long-term but may become compromised if you gain weight or become pregnant.
Click here to view before and after photos of Dr. Alghoul's Tummy Tuck patients.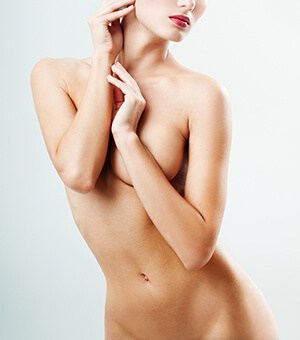 Who is a candidate for Abdominoplasty?
Women or men with excess and lax skin in the abdomen (stomach area) combined with stretch marks are good candidates for abdominoplasty. The excess skin is usually caused by previous pregnancies or significant weight loss. The presence of fat deposits under the skin varies between patients. In some patients, fat deposits are present in the entire abdomen above and below the belly button while in others it is more concentrated in the upper abdomen or lower abdomen. Women with prior pregnancies can develop a bulge in the upper stomach due to weakness and separation of the abdominal muscles. This separation is known as "rectus diastasis". The bulge or fullness in the upper stomach area results from the inner organs pushing against that weak spot. Patients who have this bulge are good candidates for abdominoplasty, which tightens and brings the muscles back together.
Important Issues to be Considered about Tummy Tuck
A Tummy Tuck procedure typically addresses three different components, the skin, fat and muscle. Some patients only have skin laxity and stretch marks in the lower stomach area and have no separation or weakness in their core muscles. In these patients a "mini abdominoplasty" or mini tummy tuck can be performed where the extra skin in the lower stomach is removed and the belly button is left undisturbed or moved down with the skin depending on the patient's figure and body dimensions. This condition, however, is uncommon as most women have skin laxity in the area of the abdomen above the belly button even in the absence of diastasis. When the skin above the belly button is lax and will need tightening and/or if the muscles need repair then a full abdominoplasty is needed. This is the most common scenario and the majority of patients presenting for tummy tuck will need a full abdominoplasty.
A tummy tuck procedure is usually combined with liposuction, which helps with contouring and sculpting of the stomach area and waistline and really complements the results of the procedure. Dr. Alghoul performs liposuction routinely on his abdominoplasties to highlight the curves and lines of an attractive figure. Great emphasis is placed on circumferential waist liposuction to promote 360 degree skin contracture and to sculpt the waistline.
Incisions for Tummy Tuck
Incisions for a tummy tuck are placed in the lower abdomen or stomach in an area that would be naturally hidden by clothing "bikini line". The incision is usually marked on the day before surgery using the patient's favorite pants or swimsuit as a guide for incision placement. The length or extent of the incision is determined by the amount of skin excess in the waist and lower back. Sometimes, especially in massive weight loss patients, in whom the skin laxity extends to the lower back, the incision extends around the waist in a full circle. This procedure is called "circumferential or 360° abdominoplasty".
In a traditional or full abdominoplasty, The belly button is brought out through a specially designed incision and its shape is recreated in a way to resemble that of a natural belly button with minimal scarring. A hidden scar is to be expected around the belly button.
Recovery from a Tummy Tuck
Recovery depends on the type of procedure performed. You will need two weeks off of work if you are considering a full abdominoplasty. If muscle tightening or repair is not performed, then you may be able to go back to work earlier. Your stomach will feel tight immediately after the procedure. It will be difficult for you to walk with a straight posture after surgery and you should expect to be hunched over to a degree to minimize tension on the incisions. On an average, it takes patients 2 weeks to gradually stretch their body back to a straight posture. Depending on the amount of tension, this may take less or more time. Most of the pain after tummy tuck is due to the muscle-tightening portion of the procedure. Swelling and loss of sensation is expected after surgery, your stomach will feel numb. Sensation recovery takes several weeks. Patients are advised not to place any warm pads over their abdomen after surgery because they can burn themselves without noticing. Return to exercise may take 4 to 6 weeks after surgery.
Contact Dr. Alghoul
If you'd like to schedule a consultation with Dr. Alghoul to discuss your Tummy Tuck in Amman, please call or contact us via email.