Consultation
During consultation Dr. Alghoul will perform a breast exam and evaluation. Depending on the associated symptoms, referral to an endocrinologist may be necessary. The treatment plan along with the proposed incisions will be discussed in detail.
Click here to see more gallery images.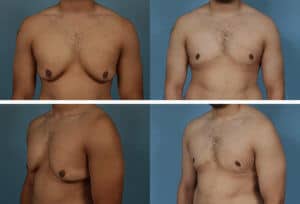 Click here to view before and after photos of Dr. Alghoul's male breast reduction patients.
What are the different treatment options for gynecomastia?
The treatment options range from removing the firm disc of breast tissue from under the nipple, through an incision around the nipple, to liposuction or even removal of the breast. Breast removal, or mastectomy, is indicated in severe cases with excess breast tissue and skin combined with sagging of the nipple. In certain situations, the nipple is detached and placed at the desired location on the chest as a skin graft.
Where are the scars located?
The procedure most commonly performed by Dr. Alghoul involves a scar placed partially around the nipple, which heals very well. Smaller access points are used for liposuction.
What to expect
Surgery for gynecomastia is performed under general or local anesthesia with sedation, as an outpatient procedure. A small drain is placed in each breast for 4-5 days. A compression garment is recommended following surgery, for two weeks. You may engage in light activities the day following surgery. Resuming more normal activity, including exercise, may take two to four weeks depending on the type of surgery performed.
Contact Dr. Alghoul
If you'd like to schedule a consultation with Dr. Alghoul to discuss male breast reduction, please call or contact us via email.