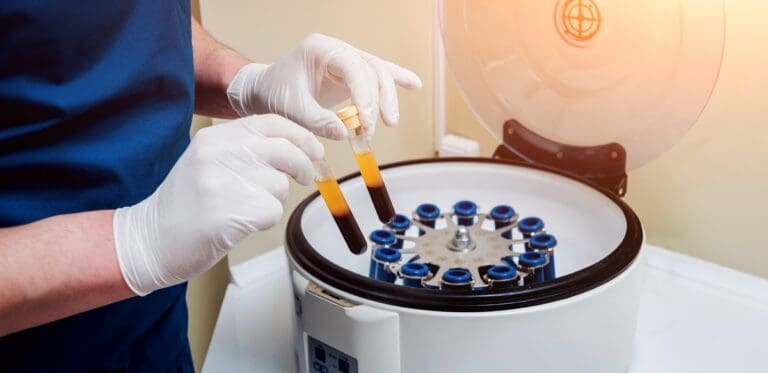 Platelet-rich plasma, or PRP, is one of the most exciting anti-aging solutions available today. The non-surgical treatment has garnered a lot of attention for its ability to naturally rejuvenate skin and lessen noticeable signs of aging. Read on as Dr. Mohammed Alghoul suggests why you might consider trying PRP.
A Natural Solution to Aging
Platelets are a component of your blood that help repairs injured tissue. Platelet-rich plasma is a solution containing a higher concentration of platelets than what is normally found in blood. When injected into the body, PRP naturally stimulates new cell growth and repairs the area — no chemicals or foreign substances necessary. For many years PRP has been widely used in other areas of medicine, such as sports medicine, because of its effective wound healing properties.
In an anti-aging context, PRP helps aging skin recapture a firm, smooth, soft appearance. The platelets stimulate the natural production of collagen and elastin, which are the building blocks of youthful, taut skin. Specifically, PRP is great for reducing fine lines, wrinkles, dark under-eye circles, uneven texture and loose skin. It is often used in certain areas of the face that are delicate or difficult to reach with other technologies, such as the delicate under-eye area.
PRP can also be used in some cases of hair loss, as it has been shown to restore thinning hair on the scalp and eyebrows.
Simple, Minimally Invasive Treatment
PRP treatment is not a difficult or demanding process. After a simple blood draw, your blood is spun through a centrifuge to concentrate the platelets and separate them from other blood particles. Then, the PRP is injected into the pre-determined area or areas of your face. This is a quick and virtually painless experience, with numbing medication used to prevent discomfort.
Minimal Risk of Adverse Reaction
Because the PRP is taken from your own blood and no foreign substances are added, there is virtually no risk of adverse reaction to the injections.
Lasting Results
PRP is not a quick fix that produces temporary results. It takes weeks to months for new cell growth to occur. However, once you achieve your final results, you can enjoy them for a year or more.
Learn More About PRP Treatment
If you think you could benefit from PRP and are interested in learning more, we invite you to request an informational consultation with our team. Please give us a call or send us an email today!